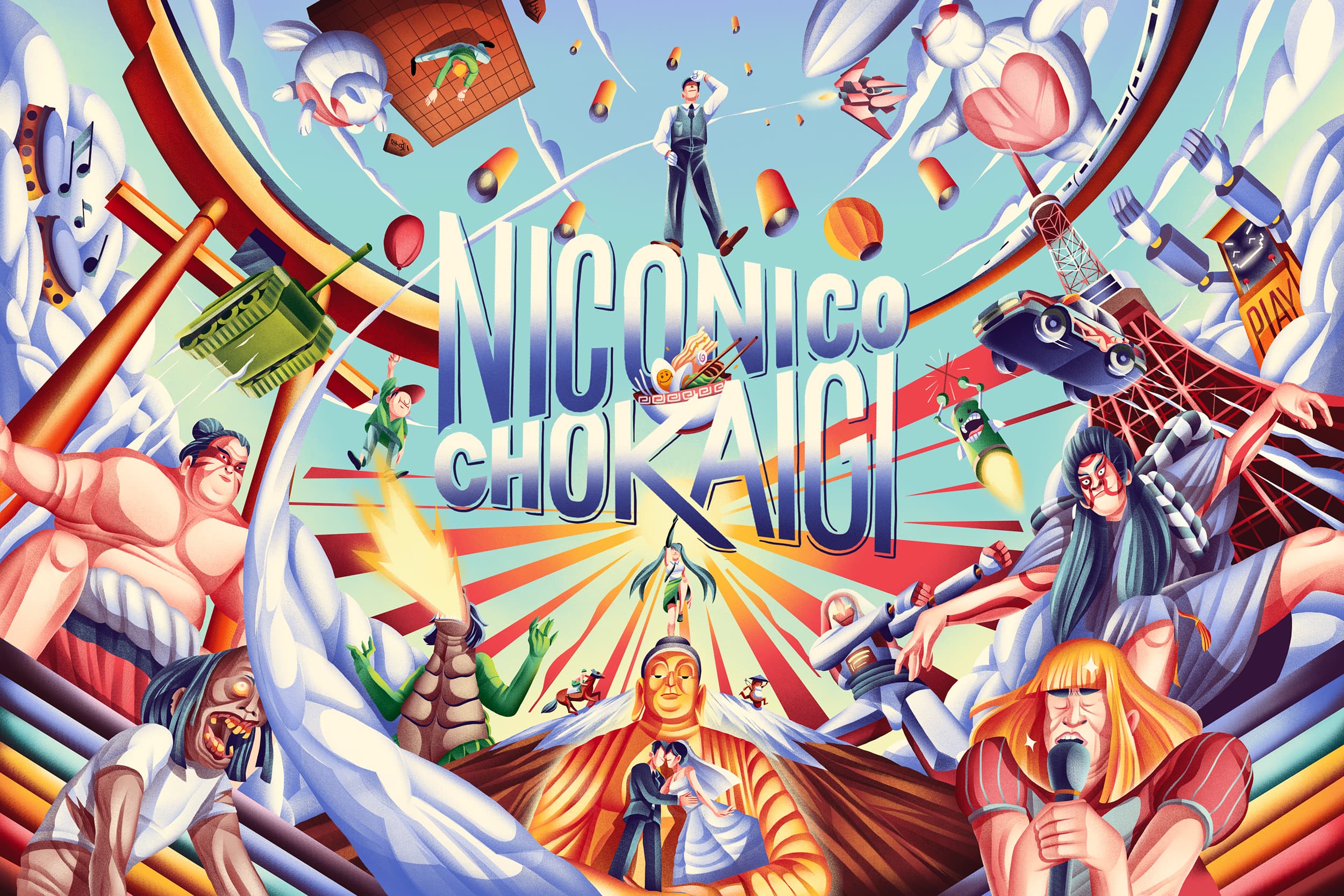 NICONICO
CHOKAIGI 2022
ON APRIL 23 - 30
Niconico Chokaigi, held by Japan's largest social video website "Niconico", is an annual festival which concept is to recreate Niconico's virtual world in real life. This unique festival is the melting pot of Japan's internet culture, which brings together a wide variety of entertainment such as Japanese tradition, anime, games, music, and more! This year, Niconico Chokaigi will be held in a merged format, both online and offline, between April 23rd and 30th.
Offline events/activities such as "Cho Kabuki" will also be streamed live via Niconico Live Streaming where users worldwide can enjoy interactive communication with guests/performers on stage through Niconico's commenting system.
Below are just a few examples of what is in store - be sure to visit the Niconico website for the full experience!
EVENT HIGHLIGHTS
CHO KABUKI
Cho Kabuki is an exceptional stage performance which combines Kabuki, a traditional Japanese theatre with a 400-year history, and cutting-edge ICT technology.
The show began in 2016 and features internationally acclaimed Kabuki actor Shidō Nakamura and Vocaloid virtual singer Hatsune Miku.
This year's program is called "永遠花誉功 (Towano Hana Homare No Isaoshi)" and its theme song is "初音ミクの消失 (Hatsune Miku no Shoushitsu)" composed and written by the popular Vocaloid producer cosMo@暴走P.
Cho Kabuki will also be available for viewing worldwide via Niconico Live Streaming.
■Dates : April 29th (Fri.) - April 30th (Sat.), 2022
■Official Website : https://chokabuki.jp/2022chokaigi/
TECHNO BUDDHIST CEREMONY
Techno Buddhist Ceremony is a new type of Buddhist ceremony created by a former DJ turned Buddhist monk.
This show mixes traditional Buddhist memorial service with the latest projection mapping technology in which monks recite the Buddhist scripture along with techno music running in the background.
#COMPASS
Details to be released at a later date.
VOICE ACTOR FESTIVAL 2022
Voice Actor Festival Supported by Disney+ is one of Japan's largest voice actor/actress events, which amassed over 2.6 million viewers in 2021.
This year, popular voice actors/actresses will be appearing in various exciting programs, including reading stage, karaoke, and more!
■Official Website : https://site.nicovideo.jp/choseiyusai/
The VOCALOID COLLECTION
~2022 Spring~
The VOCALOID Collection ~2022 Spring~ Supported by Tobu Top Tours is an online/offline festival which commemorates Vocaloid culture and amasses a plethora of content enjoyable for Vocaloid creators and listeners alike.
The event will be showcasing DJ concerts, talk shows and Vocaloid music user competition with prizes! Popular Vocaloid P will also be distributing their music's stem files enabling users to create remixes. More details will be released at a later date.
■Dates : April 22th (Fri.) - April 25th (Mon.), 2022
■Official Website : https://vocaloid-collection.jp/
VTUBER FES JAPAN 2022
VTuber Fes Japan 2022 Supported by Paidy has a plethora of must-see events for avid VTuber fans such as a stage concert and VTuber Talk Festival, a popular event where fans can talk with their favorite VTubers 1 on 1.
The live music festival will be streamed live worldwide and showcase over 60 VTubers which includes Tokino Sora and Mirai Akari!
■Dates : April 29th (Fri.) - April 30th (Sat.), 2022
■Official Website : https://vtuberfesjapan.jp/
MIKU LAND 2022 YOSAKURA
MIKU LAND is a futuristic Hatsune Miku themed amusement park in virtual reality available to fans worldwide via Virtual Cast (available on Steam) or smartphone app Holomodels (available on iOS/Android).
As an avatar, visitors can explore its vast colorful venue filled with Vocaloid inspired attractions, enjoy shopping exclusive Vocaloid merchandise and attend live events featuring popular VTubers. New attraction includes "Senbonzakura World", "Kagamine Rin & Len's Post Office in the Sky" and "Miku Detective Agency".
■Dates : April 29th (Fri.) - May 1st (Sun.), 2022
■Official Website : https://mikuland.com/
NICONICO COSPLLECTION
Niconico Cospllection is a cosplay stage where selected winners get a chance to display their prized cosplay outfits. The live streaming will cover special stage performances, arm wrestling tournaments, and more!
ME DANCING
Dance enthusiasts and popular creators from all over Japan will gather both physically and digitally to showcase a series of dance-related live streaming shows.
Online viewers can catch the virtual dance concert featuring some of the most popular dance videos in Niconico as well as the DJ × Dance collaboration stage. More details will be released at a later date.
RAILWAY
Details to be released at a later date.
...and more!